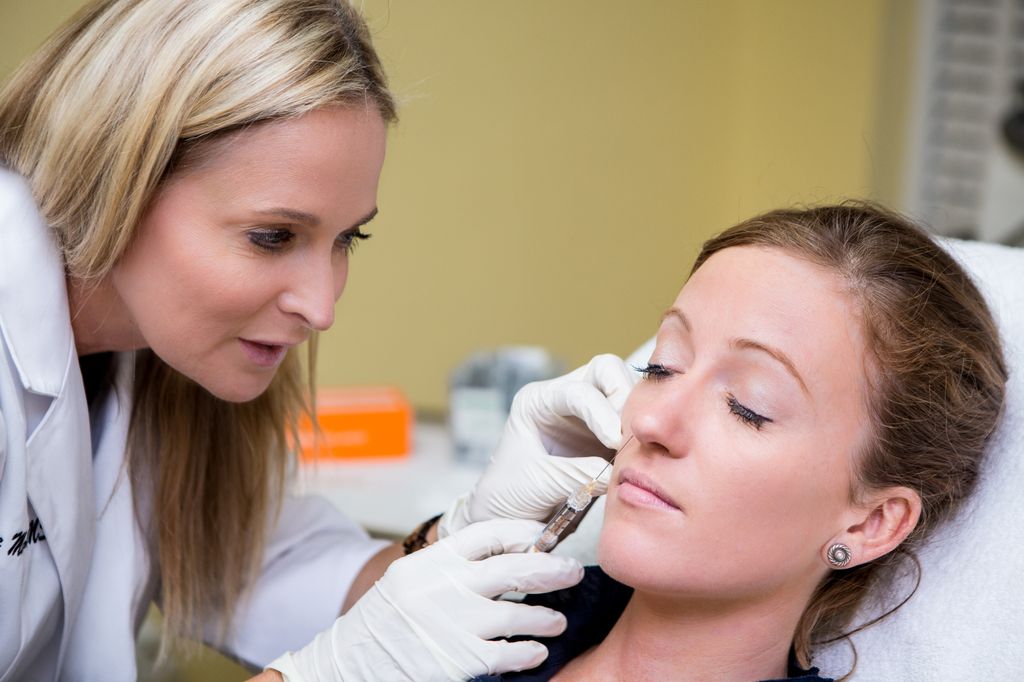 "Ready for your new look now – and I mean Right Now? This is the original instant pick-me-up."
Dermal Fillers
Dermal Fillers (Radiesse, Juvederm, Restylane, Perlane, Sculptra and Belotero) offer immediate, natural, and long lasting results in just a few minutes with no 'down time'. Say 'Bye bye marionette lines', plump those lips or get rid of those under eye bags. There are so many more uses for dermal fillers than we can list Radiesse
Radiesse®
Aesthetic dermal filler incorporates a patented formulation of CaHA microspheres suspended in a gel carrier and is designed to provide satisfying, long-lasting, cost-effective and safe aesthetic benefits for patients. The product helps to restore volume and promotes the growth of the body's own collagen, providing lasting, but not permanent, augmentation. Radiesse® dermal filler is the only dermal filler in the United States with two FDA-approved facial indications.
To view a video on how Radiesse® works click here
Juvéderm
Juvéderm® is a smooth consistency gel made of hyaluronic acid—a naturally occurring substance in your skin that helps to add volume and hydration. The doctor or practitioner eases Juvéderm® injectable gel under the skin to instantly restore your skin's volume and smooth away facial wrinkles and folds, including "smile lines" or "parentheses".
Restylane
Restylane® is a compound that occurs naturally within the body. Restylane® not only fills facial lines and wrinkles but also adds moisture and lubrication. Once injected, the molecules in Restylane® naturally draw in water and cause the tissue beneath facial lines and wrinkles to swell. This immediately fills out wrinkles and gives the skin a smoother surface. You get a younger looking face in minutes. Restylane® treatments can take anywhere from a few minutes to a half hour. Patients are able to return to their normal activities immediately after treatment. The results of Restylane® treatments generally last up to six months, at which point the treatment can be repeated.
Perlane
Perlane adds volume and fullness to the skin to correct moderate to severe facial wrinkles and folds, such as the lines from your nose to the corners of your mouth (nasolabial folds). Perlane is a clear gel formulation of hyaluronic acid that is specifically formulated to add volume like your own bodies hyaluronic acid. What makes Perlane different is the average size of the particles and depth of injection. On average, the gel particles in Perlane are larger than those in Restylane, which makes Perlane a good choice for wrinkles that benefit from a deeper injection to the skin. In three clinical studies of 150 patients each, on average 70% of patients maintained improvement for six months after just one Perlane treatment. During your consultation, your healthcare professional will decide which product is right for you.
Sculptra
Sculptra Aesthetic is a NEW type of facial injectable made from poly-L-lactic acid, which helps to replace lost collagen. As you age, your body's collagen production decreases, and you may begin to see wrinkles. Sculptra helps correct shallow to deep facial wrinkles, and folds, that appear with aging by replacing lost collagen naturally over the course of a few months.
Belotero
This is a new dermal filler that is designed to treat the surface of the skin. It is ideal for treating fine lines and wrinkles, such as lip lines around the mouth and crow's feet around the eyes. The major benefits of using Belotero over traditional fillers are safety (as indicated by its FDA approval) and proven effectiveness.
Visit Belotero.com for more information.
How Does it Work?
Dermal fillers work by plumping up the area around the injection site. Over time, aging thins the upper layer of skin, the epidermis, decreasing its ability to serve as a barrier to retain water. Additionally, the body's production of collagen slows and the existing collagen becomes less effective. Thinning epidermis and decreased collagen effectiveness lead to eye wrinkles and other signs of aging. All dermal filers act as anti-aging products by reducing the effects of thinning epidermis and less-effective natural collagen.
Results
While the results you experience with dermal fillers is immediate, it's important to understand that dermal fillers are not permanent. The way your face continues to age and how your body absorbs fillers will determine the timing of repeat treatments. There is no downtime with dermal fillers. You can resume most activities right away.