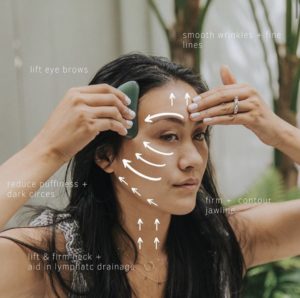 Stress can have an unbelievable affect on our body and skin, and during this unprecedented time in our lives, we are all experiencing an additional dose of stress and anxiety. For this reason, it has never been more important to take extra special care of ourselves (and our skin)! One way to accomplish this is to devote a little extra time to your beauty routine and rituals. Enter Gua Sha massage – a traditional Chinese therapy that involves gently massaging or lightly scraping your face.
What Are the Benefits to Gua Sha Massage?
A daily dose of at-home Gua Sha massage is not only relaxing (yes, please!), it will also provide the following benefits:
Helps eliminate toxins
Improves circulation
Works stagnant lymphatic fluid and stuck Qi (a.k.a. energy)
Many different tools can be used for the massage such as jade stones, rose quartz spoons, crystal mushrooms and rollers. Don't feel like waiting on an Amazon delivery? No problem. A kitchen spoon will also do the trick.
Five Easy Steps to Gua Sha Massage Therapy
Gua Sha massage may sound like it is difficult to practice, but it couldn't be easier. In just five simple steps, you will enjoy healthy, glowing skin!
Step 1: After completing your normal cleansing routine, take three deep breaths while rolling your shoulders and neck to reduce tension.
Step 2: Apply a facial oil, serum, or moisturizer (as prescribed by your Skin NV aesthetician) to your face, neck, and décolletage. This will allow your massage tool to easily glide over the skin.
Step 3: Clean your massage tool of choice with soap and water.
Step 4: Using light to medium pressure, roll the tool over your skin stroking upward and outward in a slow, continuous pattern. Concentrate on one side of the face, neck, and décolletage, then move to the other. See the pattern mapped out below.
Step 5: Clean your massage tool after each use.
Practice Gua Sha Massage Daily to Achieve Healthy, Glowing Skin!
Practicing Gua Sha massage on a consistent basis is a deliberate beauty ritual that will result in a more lifted and contoured appearance while also reducing puffiness, increasing blood circulation and product penetration – all of which contribute to soothing the skin.
At Skin NV, we are missing our clients like crazy and cannot wait to reopen our doors! Until then, stay safe and beautiful and we will see you soon!