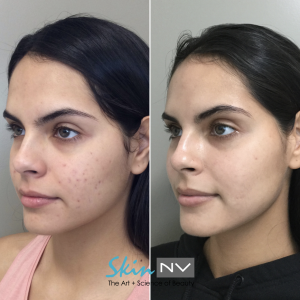 When it comes to skincare, there is no "one size fits all" approach to treating the many different skin conditions. For this reason, our highly trained skincare technicians often combine a variety of therapies to reach optimal results for our clients. Worried it's too much? Not at all. Read more…
Why Combos Work
Without question, there is not a single most effective treatment for the most common skin conditions such as fine lines, deep wrinkles, uneven skin tone, hyperpigmentation, and scarring. For instance, a laser treatment will treat skin tone while an injectable filler or Botox targets fine lines and deep wrinkles. A chemical peel is the best option to remove age spots and sun damage, and a filler will target loss in facial volume.
A combination of therapies means looking at the whole picture and seeing what complementary therapies can work together to reach optimal results.
Examples of Combination Therapies
During your consultation at Skin NV, we will assess your skin conditions and determine the best course of treatment to fit your individual needs. We often use the following therapy combinations:
Treating Hyperpigmentation (PIH & PIE) – Chemical Peels, Laser, At-Home Skin Care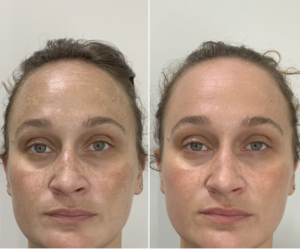 Facial Rejuvenation – Scultpra Facial, Microneedling, Dermal Filler, Sculptra, Botox, Threads, At-Home Medical Grade Skincare
Acne Scarring – Custom Facials, LED Blue Light Therapy, Chemical Peels, Microneedling, Laser, At-Home Medical Grade Skincare
Rosacea – Customized HydraFacial, Gloss R+R Peel, Microneedling, IPL, At-Home Medical Grade Skincare
Fat Reduction/ Body Skin Tightening – Kybella, Emsculpt, Thermage Radio Frequency, Diet/Exercise, MIC Shots
All About Timing
When you opt for a combination of therapies, the timing will vary for each. Certain procedures, such as skin tightening and wrinkle removal, can be performed at the same time. Other treatments may require a break in between. Your skincare technician will provide a treatment timeline based on the recommended combination of therapies.
Skin NV – Your Premier South Tampa Medical Spa
Skin NV is your single-stop destination for all your medical spa treatments and more! We specialize in non-surgical cosmetic and skin rejuvenation treatments in a chic, modern spa setting. For more information on our services or to schedule a consultation, please call (813) 839-4141.