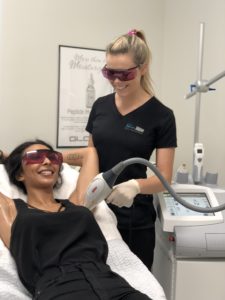 I'm sure you've heard it before…laser hair removal is only for light-skinned people! That is SO not true!
In the past, laser hair removal only worked on patients with fair skin and dark hair. Fortunately, with advancing changes in technology and increasing market demand, now EVERY skin type can be effectively treated.
Laser hair removal works by targeting melanin within the hair, and although melanin is also found in the epidermis, the laser responds only to the highest concentrations. This means that as long as the area being treated isn't fully blonde or gray, results may easily be obtained regardless of skin tone.
At Skin NV, we use only the best state-of-the-art technology which is why we use the Cynosure Vectus Diode Laser which is FDA approved for use on ALL skin types, including Hispanic, Indian, and African-American. The patented melanin reader enables the user to determine the safest settings for a patient's skin, which is our #1 priority. Equipment settings can be adjusted to offer the most effective hair removal results. This means that even the most detailed modifications can be made for the finer and sparser hairs as treatments advance, providing the most desired results.
Many medical offices may offer laser hair removal using an IPL (intense pulsed light) device. While these devices can be effective, they typically require an extensive amount of treatments (and more $$$). The Diode Laser has an 810nm wavelength while an IPL is in the 400nm range. At twice the wavelength, the Diode Laser may double the depth of penetration into the skin. This means that the energy of the Diode Laser goes twice as deep reaching the level of hair follicles, while maintaining minimal heat on the surface of the skin. These features of this Laser support our commitment to safety and efficacy.
So how long does it take to see results? Typically, after 5 treatments, a patient should expect a 75-90% reduction in hair growth. Each session, the hairs in their growth phase (the Anagen phase) receive maximum treatment because the cells in the follicle are in their vulnerable developing state. This means that hairs will be finer and sparser after each session. In fact, many patients report a significant reduction in razor burn and ingrown hairs even after only a few treatments.
Does it hurt? The laser creates a deep heat in the skin that is best compared to a hot rubber band snapping on the skin. Any practice that offers "pain-free" laser hair removal may not be operating an effective device. We do our best to make you as comfortable and can offer numbing cream as needed. We also make the actual treatment as quick and as pleasant as possible.
It's time to ditch the shaving, waxing, tweezing, epilating and stinky chemicals. Sure, laser hair removal is an investment, but we can assure you that the time and frustration you will save will be totally worth it and make you wish you had done it sooner! So why wait? Come in for your free Tampa laser hair removal consultation today.