The Benefits of Microneedling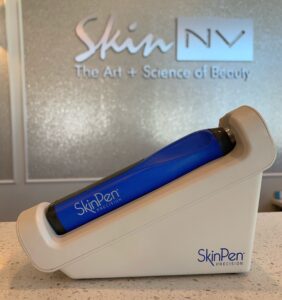 For anyone who'd like to improve the look of scars, boost collagen, or improve the overall look and health of their skin, microneedling is an easy solution! Learn more about this easy multi-purpose treatment…
What is microneedling?
Also known as "collagen induction therapy", or as well call it "Biofacials", microneedling is a minimally invasive cosmetic procedure used to treat a variety of skin concerns.  At Skin NV, we use the FDA-approved Skin Pen – a device armed with fine needles to make minuscule, evenly spaced punctures in the skin. The small wounds created by the needling device, which allow a pinprick of blood to rise to the surface, induce the skin to start the healing response. The body naturally rushes to heal the "injury" by growing fresh collagen and elastin – both of which provide the skin its strength and ability to stretch, thus improving its overall appearance.
What are the benefits of microneedling?
Studies show that skin treated with just four microneedling sessions (spaced one month apart) produced up to a 400% increase in collagen and elastin six months after treatment! As if that isn't enough, other benefits include:
Restored skin volume
Smoother texture and radiant skin
Reduced appearance of scars
Improved product penetration
A more even skin tone
What to Expect Before & After Microneedling Treatments
Prior to every microneedling treatment, we recommend that you stop taking certain medications such as ibuprofen and any medication used to treat acne. In addition, we suggest that you stop using topical retinoids.
Microneedling is minimally invasive with very little downtime, if any at all. Some people report minor skin irritation and redness within the first few days following the procedure. Should this occur, it is completely normal! We highly recommend using sunscreen (what's new…ha), as your skin will be more sensitive to the sun after treatment. Because the skin immediately starts the healing process after treatment, you should start seeing results within just a few weeks!
Microneedling at Skin NV
At our South Tampa med spa, our clients can choose from several different levels of BioFacials which are determined by the type of Serum used in conjunction with the microneedling. These include:
BioFacial with Hyaluronic Acid
BioFacial with Daytona Serum
BioFacial with Factor Five Serum
BioFacial with PRP (plasma rich platelets "liquid gold", drawn from your own blood)
At Skin NV, we pride ourselves on providing a single-stop destination for all medical spa treatments. If you are interested in learning more about our Tampa microneedling (BioFacials) treatments, please call us today at (813) 839-4141 to schedule a FREE consultation with one of our highly trained skin experts.