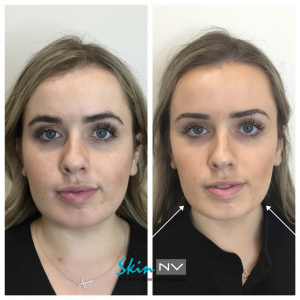 Just like the rest of your body, the face, neck and chin can be affected by excess fat and bulky muscles – both of which can negatively impact your appearance. If you fall into this category and are self-conscious about the shape of your jawline or neck, there is an effective, non-invasive and less expensive option which uses Botox (yes, Botox!) called non-surgical face slimming. Read more about this innovative treatment offered at Skin NV in South Tampa…
What is non-surgical face slimming?
There are two common causes for the appearance of a "heavy", squared jaw. The first is from excess fat deposits, the second is due to overdeveloped masseter ("chewing") muscles which may have been built up due to excessive teeth grinding. Botox, which is better known for its fine line and wrinkle vanishing powers, also works its magic in other ways – non-surgical face slimming being one of them. When injected into the masseter muscles, Botox relaxes the muscles, thus creating a slimmer, more defined jawline.
Other benefits include: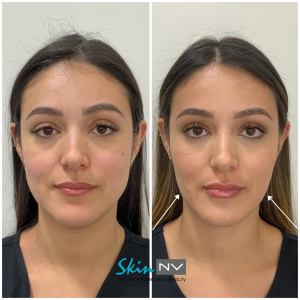 Reduces pain caused by TMJ, clicking, or lock jaw
Slims out a square/ boxy jawline
Helps alleviate teeth grinding
A quick/easy procedure compared to invasive surgery
What can I expect during the treatment?
Non-surgical face slimming is quick and relatively painless. The visit will last less than an hour, there is zero downtime, and you can return home or to work immediately after the procedure. While most patients report little discomfort, ice and numbing cream may be used to minimize pain if necessary. Side effects are rare, but may include swelling, redness, and slight bruising immediately following treatment. In most cases, any side effects will disappear within a few days. We recommend that you avoid touching your lower face for at least 12 hours after the treatment.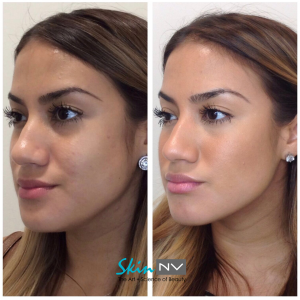 How long do the effects last?
You will begin to see a change within just a few days, and by day ten, you will see the full jawline slimming effect! The effects of treatment typically last between three to four months. After the initial treatment, it is recommended to undergo subsequent treatments in order to maintain results. With each treatment, the masseter muscles relax even more, and eventually, follow-up sessions will only be required every six months. Of course, every patient is different, and some may require maintenance than others. 
Call Skin NV to schedule your non-surgical face slimming appointment!
Interested in learning more about our non-surgical face slimming treatments at Skin NV? Call our South Tampa med spa at (813) 839-4141 for more information or to schedule a consultation.