Get the Body You Have Always Wanted with Reaction
---
Have you lost a lot of weight in a short amount of time, had a baby or started a new diet and exercise routine? If the answer is "yes" – it may be time to try Reaction.
Reaction is a safe, non-invasive way to reduce cellulite and extra body folds, break down fatty deposits, lessen the effects of aging and tighten loose, saggy skin. This cosmetic treatment not only helps shrink bulky and/or loose underarm skin, it also reduces cellulite in the lower buttocks and outer thighs and tightens loose skin on your legs. One treatment session may last between 20 and 30 minutes.
The goal of this treatment is to help you feel and look your best. It offers a variety of solutions to problems that have been plaguing you for a while. It does not matter if you are trying to get rid of skin "dimples" caused by cellulite, reshape parts of your body or add life to your dull and/or wrinkled skin – Reaction is the key to success. It is one of the most advanced multifaceted radio frequency body contouring and skin therapy devices in the world. Viora Reaction is appealing to those looking for a change because it is safe, effective and affordable.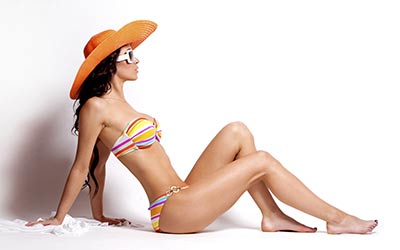 ReFit
Reaction offers two different treatment options – Refit and ReLift. Refit is especially beneficial if you have rapidly lost weight and want to get rid of the excess skin that was left behind. This treatment option not only tightens up loose, saggy skin, it also eliminates unsightly body folds. ReFit works by heating your lower dermal layers (i.e. collagen and elastic fibers) with safe levels of RF energy. The heat restores your skin's elasticity, leaving you with a tight, firm, healthy appearance. One of the best features of ReFit is that there is no down time! Even more, the treatment can be performed without anesthesia. In other words, this treatment option helps you get the body you have always wanted – easily and painlessly. After all, you have worked so hard to achieve your desired weight why not enhance your appearance with ReFit.
ReLift
ReLift is another excellent skin contouring and tightening treatment from Reaction. If you are looking for a way to reduce the fat in your chin and cheeks, contour your jaw line, tighten the skin around your lower face and neck – this may be the ideal treatment for you! ReLift is especially beneficial if you are looking to improve the appearance of your face and neck. It can take years off your appearance – causing you to look and feel younger and more alive than ever. Similar to ReFit, there is absolutely no anesthesia or "down time" required – making it easy to incorporate into your busy life. ReLift improves your overall appearance by reducing your fat cell volume, tightening saggy skin areas, promoting collagen production and improving your skin's firmness and elasticity. It uses safe amounts of energy to remove excess fat from your body. The results are firmer skin, reduced facial volume and a healthy, youthful appearance. Defy gravity and turn back time with ReLift.
Reaction offers a variety of options to help you get the body that you have always wanted. There is a solution to your problems – you can achieve a younger, more jubilant appearance – with very little effort at all.