What is CooLifting?
---
Do you have fifteen minutes to spare? Then you have time to strip away ten years of aging from your face. CooLifting, also known as the Beauty Gun, is a new treatment receiving spectacular results from patients who are blown away by the effectiveness of such an easy process. Harnessing only the power of carbon dioxide air flow and a high concentration of atomized actives, Coolifting uses low temperature and high pressure to literally blast signs of aging away. If you're ready to look years younger, CooLifting is your ticket to unparalleled rejuvenation.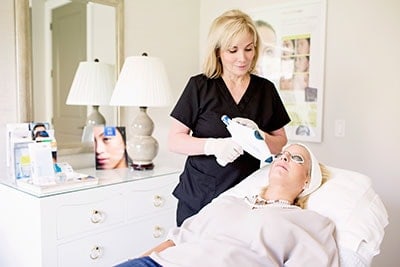 How CoolLifting Works.
---
The Beauty Gun delivers a consistent, smooth delivery of CO2 blended with atomized actives. When combined, these ingredients create thermal shock that stimulates collagen and elastin creation in the skin. The same principles also improve blood flow as the circulating vessels contract and expand.
Normally, natural collagen and elastin work with the hyaluronic acid in your body to keep your skin looking smooth, youthful, and radiant. Unfortunately, the course of natural aging causes your body to produce less collagen and elastin by the age of 25 or 30, which leads to dryer, thinner, less resilient skin. Without purposefully providing your body with the elements it needs to keep your tissue and skin strong, you'll notice a slow but steady progression of wrinkles and deep lines on your face. The cold temperature shock from the Beauty Gun causes an instantaneous dermis reaction to help your skin heal itself and diminish the signs of aging.
The Results of CoolLifting.
---
Increasing your use of CooLifting to twice a week will provide a rejuvenating effect as collagen and elastin are aggressively stimulated to improve the skin's texture and quality. Each session takes only five minutes, is pain-free, and unbelievably easy. Since there's no downtime involved in a Beauty Gun treatment, you can stop in for a quick procedure and return to your daily activities without any delay. The professionals at Skin NV in Tampa are prepared to help you diminish the signs of aging and replace them with gorgeous, glowing skin.