All facials can be customized depending on skin type.
BEVERLY HILLS "GOLD" FACIAL $175
"A little bit of Beverly Hills in South Tampa." Experience the ultimate pampering! Using exclusive gold and caviar products, this facial starts with gommage to gently exfoliate. Relax while actual 24k Gold leaves are massaged into the skin which stimulate collagen and promote elasticity. A caviar ampule is then infused using Ultrasonic technology to feed the skin essential nutrients. Leave with a refreshed, golden glow!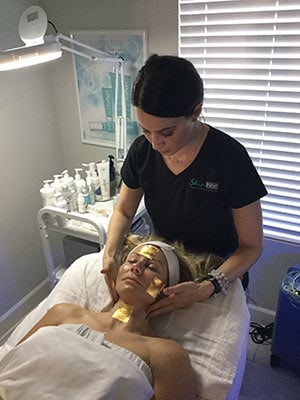 ILLUMINATING VITAMIN INFUSION FACIAL: IV FOR YOUR FACE! $150
This facial is a flawless fusion of deep exfoliation and cellular oxygenation. Combining a dual exfoliator with ultrasonic treatment makes this facial the ultimate pore refining treatment. A blend of Oxygen and vitamins is infused into the skin to immediately reduce the visible signs of aging while stimulating collagen production. This treatment is ideal for all skin types as it is customized to your individual needs.
DETOX ACNE FACIAL $125
A deep pore cleansing starting with an exfoliating resurfacing masque followed by layering skin appropriate acids to draw out impurities. Then steam and extractions are performed if needed. Anti-bacterial peptides are applied along with soothing anti-inflammatory botanicals to finish the treatment.
LED CUSTOM FACIAL $125
Cutting edge LED therapy is a natural, non-invasive, FDA approved treatment for multiple skin conditions including aging and acne. This 5 step procedure increases collagen, reduces inflammation, increases circulation and destroys acne bacteria but also calms and restores your body. This treatment is ideal for all skin types as it is customized to your individual needs.
DERMAPLANING FACIAL $100
A classic part of your maintenance routine, this facial utilizes dermaplaning to exfoliate dead skin and remove vellus hair. (No more fuzz!) Topped with a light acid to tighten and brighten leaving your skin feeling smooth and refreshed. Best of all, no downtime! Add oxygen infusion for the ultimate glow!
COOL LIFTING – THE BEAUTY GUN $200, package available
A quick 10-minute treatment using cryotherapy to tighten the skin, reduce wrinkles, increase hydration and add radiance. Improve collagen production with a series.