Hey Tampa – Ever wanted to burn fat without a workout? Or get 6-pack abs without a gym? EMSculpt can help do just that.
EMSculpt is a revolutionary new treatment for the abdomen and buttocks that builds muscle and reduces fat through the application of targeted electromagnetic energy. It builds, tones, and defines the muscles of the body, producing a tighter and more contoured look, while also reducing fat in the treatment area. Just a few EMSculpt treatments offer the same result as many thousands of crunches or squats.
How Does EMSculpt Work?
---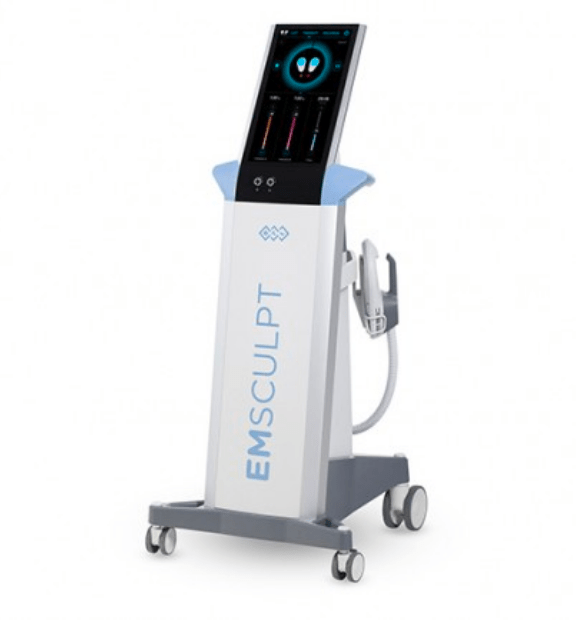 EMSculpt works to strengthen and tone the muscles through strategically applied electromagnetic energy. When the EMSculpt applicator is used on the muscles, it sends non-invasive HIFEM (High-Intensity Focused Electromagnetic) energy into the area. This energy induces supramaximal contractions, which are unlike the contractions your muscles undergo during exercise. They're far more intense (though not painful to experience), and cause the body to react by building muscle. This reaction results in more defined muscles, which gives a patient a firmer, more toned, and more contoured appearance. EMSculpt's electromagnetic energy also breaks down fat in the treatment area, helping you lose stubborn fat around the targeted muscles.
What Is an EMSculpt Treatment Like?
EMSculpt treatments take about 30 minutes each. Generally, four treatments across a two week period are recommended, with each treatment being at least 2 to 3 days apart. The treatment is simple, non-invasive, and pain-free. After each treatment, patients will feel like they have exercised the treatment areas. No downtime is required.
Is EMSculpt Safe?
Yes! EMSculpt is a safe and efficient treatment that has been clinically tested through seven independent United States studies.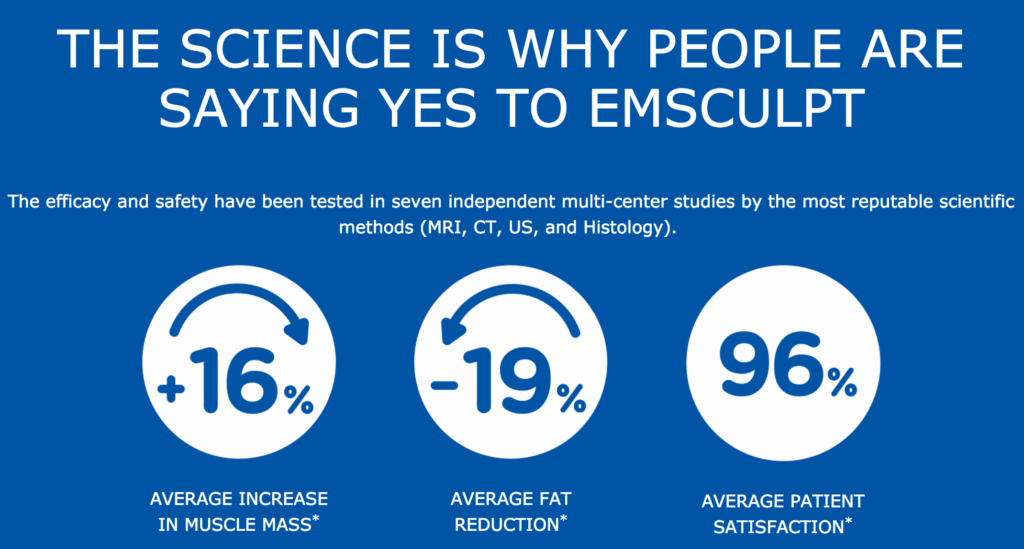 What Is EMSculpt For?
---
EMSculpt is a muscle-sculpting and fat loss treatment that can be used on both the stomach and the buttocks. When used on the abs, it reduces fat while toning and defining ab muscles, giving patients more defined abs without a workout. When used on the buttocks, it works the same way, reducing fat while toning and defining the muscles, giving patients a more lifted and athletic look.
Am I a Candidate for EMSculpt?
---
Anyone who is interested in EMSculpt, both men and women, may be a candidate for the treatment. If you're considering EMSculpt, contact SkinNV for a consultation. At your appointment, a member of our skilled staff can speak to you about your goals and whether EMSculpt would be right for you.
When Will I See Results of an EMSculpt Treatment?
---
Some results of EMSculpt can felt immediately after treatment. The final results of EMSculpt may be seen around 2 to 4 weeks after a final session, with improvements continuing even after the first month post-treatment.