HydraFacial at Skin NV
---
Achieving healthy, radiant skin doesn't need to be a complicated process. At Skin NV, we believe that nourished, restored, and protected skin can naturally shine, which is why we now offer the non-invasive HydraFacial MD treatment.
HydraFacial MD blends the best elements of hydra dermabrasion, chemical peel science, painless extraction, and nutrient delivery into one simple treatment that can completely transform the health and appearance of your skin.
Read more about HydraFacial MD below, then visit our Skin NV located in Tampa, Florida or call us at 813-839-4141 to schedule your first Tampa HydraFacial appointment!
The HydraFacial MD Treatment
---
The HydraFacial is a five step treatment, with each step serving a different purpose to help the skin look younger, healthier, and more vibrant. Many clients opt to receive four or five HydraFacial treatments to maximize results.
VORTEX-EXFOLIATION: This step uses a specially formulated serum with lactic and glycolic acids, algae extract, and yeast extract to remove dead skin cells from the surface of the face. Lactic and glycolic acids help to gently cleanse and exfoliate the skin, while the algae extract provides a soothing, calming effect and the yeast extract firms the appearance of fine lines.
VORTEX-PEEL: Next, a mixture of glycolic and salicylic acids exfoliate and peel the skin gently, so your skin can be rid of impurities without any post-peel scaling.
VORTEX-EXTRACTION: In this step, a painless vortex-suction is utilized to clean out your pores. Another special serum is applies to your skin at this point with all natural ingredients like honey extract and spirea ulmaria flower extract to provide extra benefits.
VORTEX-FUSION: As your HydraFacial nears its end, your skin is treated to a dose of nourishment and protection from antioxidants, peptides, and hyaluronic acid.
EXTEND AND PROTECT: This last step is something that you can elect to do at home with a Daily Essentials kit in order to maintain your radiant results.
Depending on your ultimate skin enhancement goals, your individual HydraFacial will be tailored to meet your needs. For example, if you want to overcome deep signs of aging, you will receive a Connective Tissue Growth Factor in step 4 specifically designed to regenerate skin health by promoting collagen and elastin production.
Benefits of a HydraFacial
---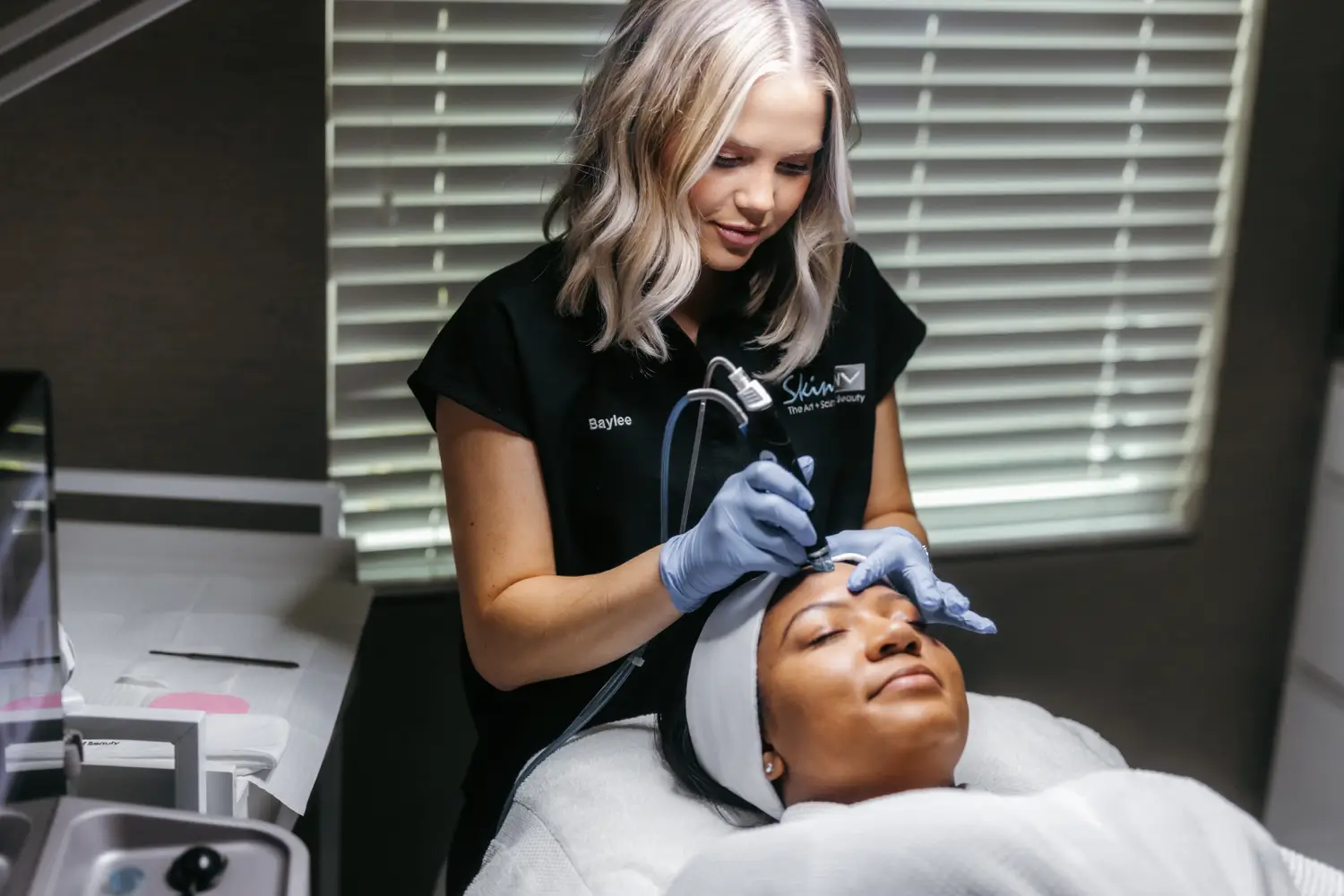 A HydraFacial can address most skin problems, especially those caused by sun damage, loss of collagen and hyaluronic acid, and acne. After a HydraFacial, you will notice that your fine lines and wrinkles are less noticeable, your skin is firmer and more elastic, and your skin tone looks even and vibrant. In addition, you may see improvement in your skin texture, hyperpigmentation, enlarged pores, acne, and advanced signs of aging. The HydraFacial can do it all!
The results really speak for themselves. Just take a look at these before-and-after pictures to see for yourself.
The Results
---
Tampa Hydrafacial to Treat Hyperpigmentation
4 sessions

Tampa Hydrafacial to Treat Nasolabial Folds
5 sessions