General
---
When I come in for my free consultation, is it possible to go forward with my treatment plan immediately?
We allow enough time for you to have a thorough and professional treatment plan formulated to meet your specific needs, and in most cases, you will be able to get started during that appointment.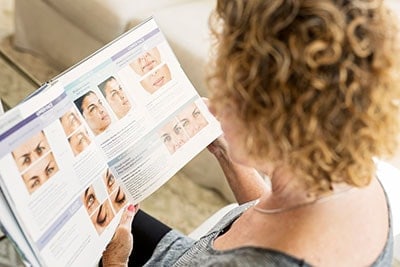 Botox
---
Is it true that Botox is a poison? How can it be safe for my skin?
While Botox is derived from the Botulism bacteria it's about as similar to botulism as penicillin is to mold! It is safe for your skin; it's injected into the muscle below the skin and has an effected area about the size of the end of a pencil eraser.
Do I have an option to determine how much movement I still want in my forehead area?
Absolutely, we recommend starting slowly and adding over time until you achieve your desired results.
Are there any side effects?
Perhaps some minimal bruising or slight swelling at the injection site, but that's rare. Icing the injection site helps reduce that slight possibility and we always give our patients ice packs!
Does it hurt?
We use the smallest of needles and any discomfort you might feel would be very minimal and quick.
How long does it last?
On average, three to four months.
Fillers
---
What are dermal fillers and how do they work?
Dermal filler are made from many different materials, such as hyaluronic acid, bovine collagen, or micronized calcium to name a few. Your practitioner will help you determine the right dermal filler to get you the results you want.
How quick is the procedure and how long will it take my husband to notice?
At most it will take an hour, and the results are so natural and subtle, your husband and your friends may notice that you look great, but they won't quite be able to put their finger on why!
Microdermabrasion
---
How does Microdermabrasion work?
By carefully spraying the skin with a focused stream of exfoliating microcrystals. Microdermabrasion improves skin's appearance and encourages the production of new skin.
My younger sister is in town this weekend and I need my skin to look more radiant than hers. Will Microdermabrasion work quickly?
You will look dewy because the surface dead skin is buffed away, however, microdermabrasion is not for every skin type. Our aestheticians will help you determine which treatment will work best and which treatment will make your sister green with envy!
Is there any recovery time? If so, how long?
No, the results are immediate and there is no down time.
Medical-grade Peels
---
Are the chemicals in peels harmful?
No, some are even organic and with some peels you won't even "peel". We have chemical peels for every skin type and they can correct a multitude of past "skin sins." When combined with our laser, we can give your skin that one-two punch that makes you look like you've never stayed up past 10PM in your life!
How do I determine which peel I should get?
A skin analysis is with our aesthetician will determine which treatment is best for your skin type and corrective needs.
Liquid Facelift
---
What's involved in a liquid facelift?
We use a combination of botox and dermal fillers to create an uplift in the cheek bone, then dermal fillers will give you the youthful underlayment you had ten years ago.
Are there any risks or side effects?
Possibly slight bruising or soreness. You can help yourself by not using any aspirin or ibuprofen products beginning three days before your appointment.
IPL
---
What are IPL Skin Treatments using Photorejuvenation?
Lumenis IPL Technology improves the appearance of photoaged skin, removes age spots (sun-induced freckles), most benign brown pigments, redness caused by broken capillaries and gives the skin a smoother, more even tone through a process called Photorejuvenation for face and body. IPL Skin Treatments using Photorejuvenation help restore a more youthful appearance without the patient downtime.
Are patients satisfied with the results of this gentler, more delicate approach?
IPL Skin Treatments using Photorejuvenation are recognized for a very high measure of patient satisfaction. Patients are very pleased with treatment results because the process treats the full face, neck, chest or hands, rather than addressing a single isolated area or imperfection. With a series of treatments, IPL technology can help restore a more youthful appearance without patient downtime or a prolonged recovery necessary after other types of treatments. Also, treatments are fast. With the large spot size and 1Hz repetition rate, a full face treatment can be completed in 15 minutes.
How many treatments are required to show an improved look?
IPL Skin Treatments using Photorejuvenation often consist of full-face treatments or treatment of isolated body areas, like the hands or chest. The treatment regimen typically consists of one to three treatments administered at three week intervals, utilizing broad spectrum light in the visible and near-infrared range (from 515 nm up to about 1200 nm).
Laser Hair Removal
---
Does the laser treatment hurt?
LightSheer's cold handpiece greatly reduces any discomfort during treatment. When the pulse of light is delivered some patients experience a mild sting or pinch similar to the snap of a rubber band. No local anesthesia or pain medication is required. Some patients prefer a topical anesthesia when sensitive areas are treated. Applying this anesthetic prior to treatment will lessen any discomfort.
What happens to the skin after treatment?
Within about 30 minutes of treatment, the area may become pink or red. This reaction subsides quickly, usually in under an hour, because the laser does not damage the skin and no bandages are necessary. If necessary, the doctor or practitioner may prescribe a topical cream to apply to the treated areas.
What should I do after I am treated?
Following treatment, you can return to your normal activities, however, treated areas should be handled with care. Avoid: Retin-A, alpha hydroxy acids, glycolic acids, and astringents. You may clean the area using mild soap and water. You should avoid tanning and use a sunscreen on any treated areas exposed to the sun.
VISIA Digital Skin Analysis
---
What is VISIA Digital Skin Analysis?
VISIA™ Digital Skin Analysis is an exciting technological innovation that uses a multi-spectral imaging system to identify problem areas of your complexion, allowing for a customized skin treatment program that specifically targets these areas.
The VISIA Digital Skin Analysis is the first diagnostic tool to provide clinical measurement of surface and subsurface epidermal irregularities and pigment conditions. VISIA's photographic technology captures a clear, multi-dimensional image of select facial areas, while examining the severity of various age-related conditions, including:
Fine lines and wrinkles
Hyperpigmentation (age/dark spots; accentuated in conditions such as melasma, rosacea, spider veins, and acne)
Enlarged pores
Skin texture and tone evenness (color variation)
Porphyrins (evidence of bacterial growth which may lead to acne)
Sun damage (UV spots)
Once your VISIA imaging session is complete, our medical aesthetician will provide you a detailed complexion report that focuses on specific problem areas, compares your results with others your age, and included treatment recommendations specifically for your complexion.
With our state-of-the-art skin evaluation using VISIA skin analysis system, you will receive a free ultimate skin evaluation and consultation from our knowledgeable aesthetic professionals. This analysis will serve as an objective measure of your skin health, and it will be the basis on which we will tailor our skin care program to meet your specific skin needs.