At Skin NV, our knowledgeable team of professionals provides the utmost service to each and every customer. We value you and your skin care needs, and we're here to assist you in achieving your skin care goals, while providing you with white glove treatment each step of the way. Learn more about our team of experts.
Let our professional and friendly staff help you look your best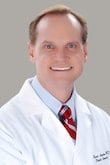 Dr. Bruce Landon
Medical Director
Dr. Landon has practiced Plastic and Reconstructive Surgery in the Tampa area for 26 years. He completed his medical education with an M.D. degree at UCLA, the University of California, Los Angeles and went on to complete 6 years of general surgery training and 2 years of specialty training in Plastic and Reconstructive Surgery at the University of California San Diego. Dr. Landon is Board Certified in Plastic and Reconstructive Surgery, and his practice is limited to plastic surgery in Tampa. Dr. Landon is extensively trained in all aspects of Reconstructive and Cosmetic Surgery. He is a member in good standing of the Florida Medical Association, a Fellow of the American College of Surgeons and the American Society of Plastic Surgery.
Denise Merdich, MSN, ARNP
National Injectable Trainer/Master Injector
Denise is a National Injectable Trainer to physicians in advanced techniques for neurotoxins (Botox and Xeomin) and all dermal fillers. Denise also acts as a national injectable trainer and has a previous history of teaching for Allergan (Botox) for seven years. Her primary goal is to help others to achieve a "radiant more dynamic and fresher look for their age." Her passion for beauty and facial rejuvenation in an attempt to a "youthful appearance" lead her career focus in non-surgical medical aesthetics for past 15 years. Denise pursued her undergraduate studies in Nursing at Walsh University in Canton, OH. Most of her 20 years in Nursing has been as an Operating Room Nurse in various specialties with a primary in focus in Plastic and Cardiothoracic Surgery. She furthered her Nursing degree and completed her Master's in Nursing at the University of Florida and University of South Florida.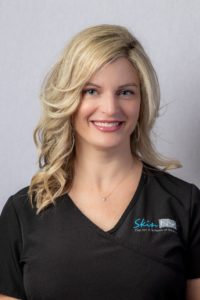 Jill Crutcher ,ARNP-BC
Board Certified Nurse Practitioner
Jill Crutcher is a board certified Nurse Practitioner with over seven years of experience in aesthetics. She obtained her BSN from the University of Louisville and then went on to graduate magna cum laude from the University of California Los Angeles.
She began her career specializing in Pediatric Cardiothoracic Surgery prior to pursuing her passion for medical aesthetics. It was in the heart of Hollywood where she gained experience at one of the top celebrity skincare clinics, treating some of the most photographed faces in the world. Blending both backgrounds has allowed her to develop an artistic eye with an attention for detail.
Jill is dedicated to creating a comfortable, relaxing experience to those she is treating by setting the proper level of expectations upfront and assurance once the procedures are complete. Combining her experience with the latest equipment and innovative techniques, Jill is able to achieve the most natural look possible. Her goal is to create a treatment plan tailored to meet each individual client's unique goals.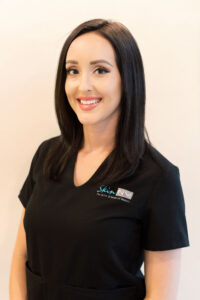 Kasey Simpkins, ARNP
Nurse Practitioner
Kasey Simpkins is a board certified Nurse Practitioner with two years of experience in aesthetics. She received her Master of Science in Nursing from Florida Southern College. Kasey has over ten years of experience in the medical industry and has specialized in several fields such as Family Practice Nurse Practitioner and Cardiology before pursuing her career in medical aesthetics.
Kasey is extensively trained in a variety of aesthetic procedures including neurotoxins, dermal fillers, and preventative skincare. She is passionate about patient education and enjoys working with patients to find a natural, balanced approach to addressing the aging process. When Kasey takes a break from pursuing her dream of becoming one of Tampa's top cosmetic injectors she enjoys spending time with her husband and two sons.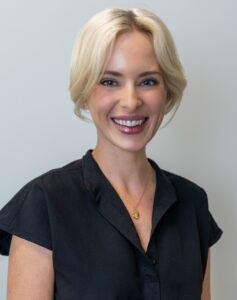 Mary Bouie, APRN-C
Nurse Practitioner
Mary is a Certified Advanced Practice Registered Nurse with a Bachelor of Science in Nursing from the University of Tampa and a Master of Science in Nursing from the University of South Florida, specializing in Adult Health, with over 5 years in aesthetics. Mary began her nursing career as a labor and delivery nurse before pursuing her passion for medical aesthetics
 For the past 5 years Mary has developed her skills and expertise through extensive training and experience in a wide variety of aesthetic procedures. Mary is a native of Tampa and when she is not injecting she loves spending time with her husband and three children.  She is passionate about improving her patients' experiences and enhancing their natural beauty. Her primary goal is to work with patients to help them achieve a healthy, rejuvenated appearance and increase confidence and happiness.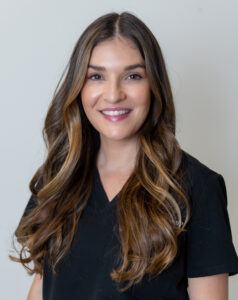 Carli Himelman, APRN
Nurse Practitioner
Carli is an Advanced Registered Nurse Practitioner with 7 years of experience in aesthetics. With an eye for detail and a passion for enhancing natural beauty, Carli creates stunning transformations that leave clients feeling their absolute best. She began her aesthetics career working at University of South Florida Health Cosmetic and Laser Center then worked at Landon Plastic Surgery.
Carli specializes in full face restoration and facial contouring, sculptra, neurotoxin and lasers. In her free time, she loves spending time with her two children and husband in South Tampa.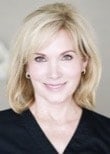 Kaisa Marshall
Medical Aesthetician
Kaisa is a licensed Aesthetician with advanced training in medical grade peels, dermaplaning and microneedling. She is certified with many peel lines including Vi, Perfect and Skin Medica. Kaisa is also certified with top skincare lines such as Obagi, PCA and Skinceuticals. Her specialty lies in designing an individualized program for each client that brings out the best in their appearance as well as their overall skin health.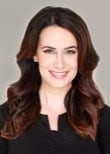 Marie Gagnon
Medical Aesthetician
Marie, a licensed Medical Aesthetician, completed her Paramedical Aesthetics training at Southeastern College in St. Petersburg, Florida. Originally from Quebec City, Canada, where she earned a Bachelor of Arts degree in Social Work, Marie is finally pursuing her life-long passion. Utilizing her sincere and compassionate interpersonal skills, Marie is helping others achieve beautiful skin and a positive self-image with her extensive training in many facets of skin care. Her advanced training in medical skin care, chemical exfoliation, and dermaplaning combined with an extensive knowledge of skin care product lines, enables Marie to develop comprehensive therapeutic treatment plans for her clients. Marie looks forward to working with you to design a skin care regimen suited to your unique needs.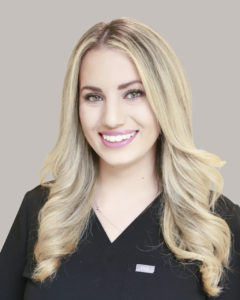 Cristina Monte
Medical Aesthetician/ Thermage Specialist
Cristina, a licensed aesthetician, completed her medical aesthetics training from Summit Academy where she graduated as Valedictorian in 2017. Her training includes Master Thermage, Medical grade chemical peels, Clear + Brilliant, HydraFacial TM, Microneedling, and phlebotomy.
Driven by her inquisitive passion for skincare, Cristina continues to make learning and growing a top priority. Her ability to treat a wide range of skin care conditions — from acne and rosacea, to pigmentation and sun damage/aging skin, while continuing to enhance existing beauty, makes her indispensable to every single one of her clients. Her custom treatments coupled with her specially tailored homecare regimens keep clients looking flawless and coming back time after time.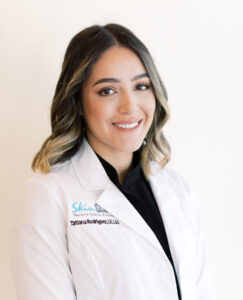 Tatiana Rodriguez
Medical Aesthetician/ Licensed Electrologist
Tatiana, a licensed Aesthetician and Medical/Aesthetic Laser Specialist, completed her medical aesthetician training at Beauty & Health Institute where she graduated with honors. She earned a Bachelor's Degree in International Business at the University of South Florida before deciding to pursue her life-long dream in skincare.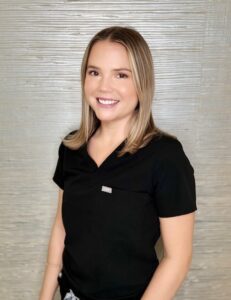 Baylee Cooper
Medical Aesthetician/ Licensed Electrologist
Born and raised in Sarasota, FL, Baylee moved to Tampa Bay to pursue her passion for skin care. Baylee attended the Beauty and Health Institute in Tampa to gain her Medical Aesthetician License a year ago. She is Licensed as both a Facial Specialist and a State Board Certified as Laser Technician. Baylee firmly believes in result-driven face and body treatments to help clients feel more confident in their skin. Her Her favorite treatments are Hydrafacial, microneedling , chemical peels, and laser. Baylee is committed to providing the highest quality of care and to educate/support our clients throughout their journey of transformation.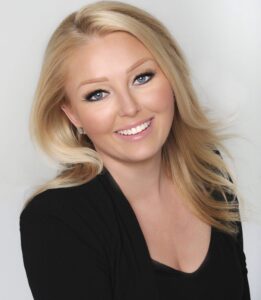 Melissa DeLouise
Office Manager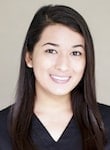 Maria Leal
Medical Assistant
Maria is a Certified Medical Assistant and 2016 Graduate of Everest University in Tampa FL. She specializes in phlebotomy, performing Mic shots, and having utensils ready for procedures performed by the Nurse Practitioner. Maria's main goal is patient satisfaction and she makes sure every patients visit is a unique and positive experience.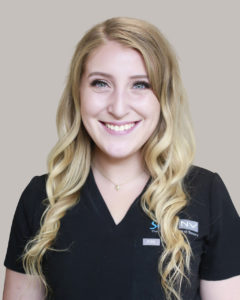 Haylee Weber
Client Services Specialist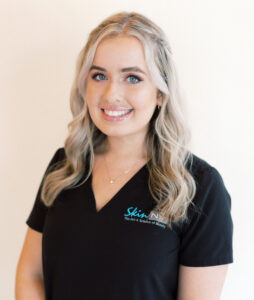 Caroline Grant
Director of Marketing/ Product Manager