What is a Liquid Facelift?
---
Liquid facelift is a gentle, NON-SURGICAL technique that combines the anti-aging properties of dermal fillers with the skin smoothing benefits of Botox, Dysport or Xeomin cosmetic injections. This special combination is very effective in reducing the evidence of fine wrinkle lines, giving you a more youthful appearance.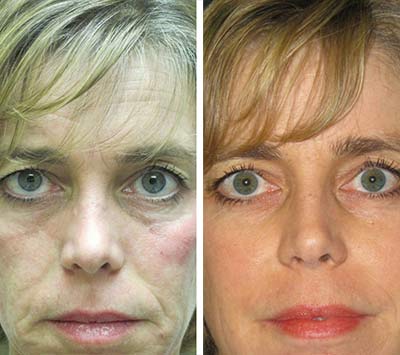 How Liquid Facelift Works.
---
Once you and your skin specialist agree on plan, what areas you'd like treated, a local anesthetic is used to numb those areas. Small, sterile injections of dermal fillers are placed under the skin and you should see immediate improvements. Liquid facelift provides excellent durability meaning your age lines and wrinkles will disappear for months. Occasionally, some slight swelling or redness occurs, but a cold compress or ice pack is all that's needed.
Who is a Candidate for Liquid Facelift?
---
Our skin care specialists often recommend this anti-aging technique to reverse the effects of those small, annoying age lines that form around your:
eyes
forehead
chin
lips
cheeks
The Results of Liquid Facelift.
---
Liquid facelift is fast; you will begin to see results immediately. There's no surgery, very little recovery time and the entire procedure takes less than an hour. The anti-aging effects last a relatively long time and provide a more natural look. In less than an hour, you leave our medical spa with firmer skin and a restored, youthful look.