Thermage FLX in South Tampa
---
Our skin care specialists are really excited about the success our clients are enjoying with Thermage FLX. With only a Single Treatment this non-invasive procedure can tighten and contour your skin. Without pain! Best of all, the results can last years, depending on your skin condition and aging process.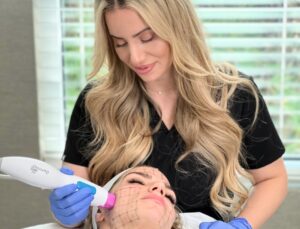 How Thermage FLX Works
---
Thermage uses radiofrequency technology to heat the deep, collagen rich layers of your skin. The heat stimulates your body's natural renewal of collagen and promotes the formation of new collagen. Collagen is that miracle your body produces which reduces sagging, renews contours, and improves the smoothness and texture of the skin's surface.
On the face, Thermage can treat:
Sagging skin
Loose jowls
Lack of definition in the jaw line
Sagging neck skin
Wrinkles and fine lines
Lack of definition in the lips
Around the eyes, Thermage can treat:
Under eye bags
Hooding
Rough texture on the eyelids
Wrinkles and fine lines
On the body, Thermage can treat:
Sagging or bulging skin
Loose Skin
The appearance of cellulite
The Results of Thermage FLX
---
It's easy to see why Thermage FLX is one of our most popular nonsurgical treatments. The procedure requires no period of recovery so you don't have to go into hiding or wear cover-up clothing. You will see immediate results with continual improvements as new collagen is produced for months and months.