"Since I've had my Sculptra dermal filler treatment, it's amazing how many people have told me how much better I look. The effects have been natural and subtle, so nobody has even guessed that I've had cosmetic treatment; but everybody has commented how much younger and fresher-faced I appear. I love it!"

What exactly is Sculptra? It's one of the latest dermal filler treatments in the US and it focuses on providing renewed plumpness and vibrancy to the skin through the replacement of lost collagen, in a natural, safe way. In fact, Sculptra has been medically approved and is swiftly gaining popularity as a painless, easy way to rejuvenate the skin and reduce the signs of aging.
It is a fast, easy procedure, and best of all, produces rapid results that last for several months. In fact, you can expect to enjoy a younger, fresher aspect for up to 2 years after the initial treatment! At Skin NV, we are the leading Tampa Sculptra professionals so you know you will leave with results!
Don't Compromise When it Comes to Inner Confidence
---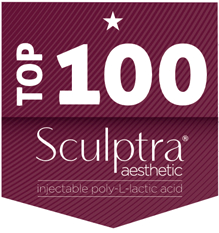 Sculptra TampaFirst impressions count, and if you're feeling self-conscious about your appearance, it's likely to show. Wrinkles and deep lines can leave even the most confident person feeling depressed about their appearance, and if you're suffering from serious lack of self-esteem, now is the time to change things for the better.
Sculptra provides a safe, natural way of addressing problems such as:
The temple area of the upper forehead
Deep lines running from the nose to the mouth
Hollow cheeks and under-eye area
Sagging skin around the jowl area
'Marionette' lines running from mouth to chin
The treatment is fast and incredibly effective. In fact, you'll be able to enjoy visibly firmer, less wrinkled skin, in a matter of minutes, although it requires a few days to take full effect. Arrange for your appointment in a lunch hour, and return to work with renewed confidence and energy.
How Does Sculptra Dermal Filler Work?
---
Sculptra is the ideal treatment for those who want to give themselves the gift of younger, rejuvenated looking skin. It operates slowly, over the course of several days; allowing your skin to settle naturally into its new, fresher look. It's a unique treatment, which focuses on replenishing the natural production of collagen in the skin, which plays a vital role in smoothing lines and folds.
The material injected into the skin contains a substance called poly-L-lactic acid; which provides natural stimulation to the cells, encouraging them to produce collagen. The treatment is virtually painless and relatively quick (depending on the extent of the area to be treated).
The Results of Sculptra?
---
Unlike other dermal filler treatments, Sculptra operates gradually, making it a popular choice for those who want a really natural result, without risking detection from those around them! However, you will notice results fairly swiftly after the treatment, which will become gradually more noticeable over time.
Patients can expect to enjoy results for as long as two years after the initial treatment, making Sculptra one of the most long-lasting anti-aging filler treatments available in the US today. If you want to find out more about how you can benefit from this procedure, call Skin NV, the leaders in Sculptra in the Tampa Bay area – call us at 813-839-4141.