Add Volume, Lift and Contour your Cheeks with Juvederm!
Have you noticed your cheeks aren't as full and round as they were when you were younger? Voluma makes it easy to take years off your looks. The skin care experts at Skin NV can advise you; we offer many options when considering the improvement of your facial appearance. Juvéderm Voluma™ XC might be the solution to a younger and more refined look to your face. Our Tampa Juvederm professionals can transform your appearance with superior results.
About Juvederm Voluma from Allergan
From the makers of the top rated family fillers in the industry, Juvéderm Voluma™ XC is not only the leading filler correcting age related volume loss in the mid face, but is also the first and only filler that is FDA- approved for people 21 and over. This is just another example of Skin NV using not only the leading products on the market, but also the safest products in order to give you complete peace of mind when choosing Skin NV. Juvéderm Voluma™ XC is an injectable gel used for deep (subcutaneous and/or supraperiosteal) injection for cheek augmentation to correct age-related volume deficit in the mid-face in adults over the age of 21.
How does Juvéderm Voluma™ XC work?
Juvéderm Voluma™ XC is injected under the skin with a minimally invasive needle and only very small amounts of pain ensuing at worst. Juvéderm Voluma™ XC contains lidocaine, a numbing agent, which enables the application to be as painless as possible. What sets Juvéderm Voluma™ XC in Tampa apart from other makers of dermal fillers, is one of the main natural ingredients found in the product. This natural ingredient is a modified hyaluronic acid (HA) which is derived from a naturally occurring complex sugar largely responsible for the age defying results that occur with application.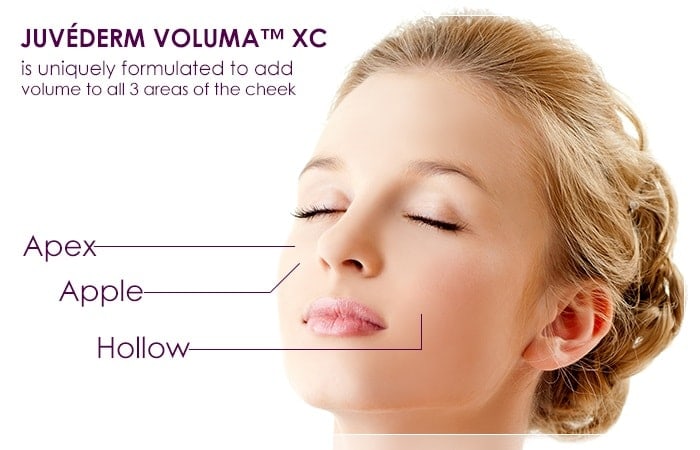 Juvéderm Voluma™ XC is used in the mid face area which includes the apex, apple, and hallow of the cheek area to restore contour and will enable you to look up to 5 years younger. It is a nonsurgical procedure and as soon as Juvéderm Voluma™ XC is injected into the mid face area, results start to immediately appear. Sudden effects include addition of volume and substantial lift to cheek area, which enables temporary age reversal to occur in area of application. A main benefit of Juvéderm Voluma™ XC versus others in the industry, is it looks natural and also feels natural, which is always important to consider when choosing a filler for your face, being you will want to feel comfortable. The effects from the application lasts up to 2 years when optimal treatment is achieved.
Contact Us Today!
Ready to try Juvederm? Contact us today! We are always happy to offer potential patients as much information as possible, in order to properly inform you of every nuance before you decide to choose a product without feeling any pressure to buy any product. Feel free to contact us anytime to schedule a free consultation by emailing us here or by giving us a call at 813.839.4110.