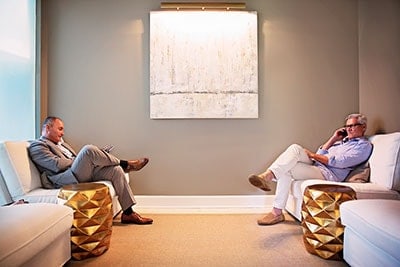 Have you lost your edge?
Have you looked at a picture of yourself lately and wondered who it was?
Do you look older than you feel?
We have the answers!
We can develop a simple treatment plan to get you in top form!
Below are some of the services that have given our male clients great results:
Smooths away lines and wrinkles; We treat men differently than women to create a natural, more youthful look.  No downtime and add numbing cream for virtually no discomfort.
Filler (Radiesse, Juvéderm, Restylane, Restylane Silk, Perlane, Sculptra, Belotero)
Facelift without the surgery! Gives you your chisel back by naturally lifting the aging face.
Quick in-office treatment to reduce or erase a double chin.
Reduce redness and sunspots, stimulate collagen. No downtime.
Remove Sun Spots, acne scarring and deep lines and wrinkles. Minimal social downtime.
Reduce pore size, acne scarring, redness and makes skin appear smoother and refreshed.
Same benefits as BioFacial but amplified by using your own plasma.
Customized for men's skin to address imperfections such as brown spots, large pores, fine lines, etc.
Endy Med/ Reaction/ Thermage
Skin tightening  on the face or body
Relax and rejuvenate your skin with soothing, customized facial.
Remove excess unwanted hair
Weekly injection packed with B vitamins to increase energy and metabolize fat
Simple, easy at home routines to keep you looking good