Sometimes a little flush on the cheeks is cute, but other times, not so much.  What causes this annoying redness that won't go away??  From genetics to diet, there are several culprits to blame.  Read below…
Rosacea:  This is by far the number one reason for that unexplained persistent, blushing on your cheeks.  Rosacea is a skin condition that causes red patches and visible blood vessels on the face.  It affects 14 million U.S. men and women, and in the most severe cases, can become disfiguring.  People tend to not recognize rosacea because it develops gradually.  It typically starts as mild redness on the cheeks, nose, chin, or forehead and comes and goes.  Eventually, the redness deepens and the episodes will last longer and longer.  If untreated, pimples and bumps (or acne) can develop, the nose can become bumpy and enlarged due to tissue build up, and often, it can affect the eyes, making them irritated, watery, and bloodshot.  No one "catches" rosacea, and it actually tends to be more frequent in certain ethnic groups.  One survey by the National Rosacea Society found that 33% of respondents reported having at least on parent of Irish heritage and 27% had a parent of English descent.  Other ethnic groups with higher rates of rosacea include people of Scandinavia, Scottish, Welsh, or eastern European descent.
Diet: Alcohol consumption, especially red wine, can also lead to redness in the cheeks. Citrus and tomato based foods are the leading factors in facial redness due to diet. Spicy foods, especially those derived from hot peppers, can also cause flushing in the cheeks and neck.  Other foods known to cause facial redness are cayenne pepper and paprika.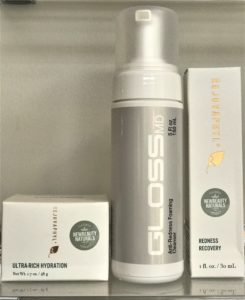 The good news is that we have the gold standard in treatments and products for reducing redness. IPL –intense pulsed light.  IPL penetrates to the second of layer of skin (dermis), without harming the first layer (epidermis), so less damage to your skin.  IPL causes a controlled injury to the superficial blood vessels, which in turn initiates your body's natural response to break down and remove the damaged tissue.  Most people see a marked response after 3 IPL treatments.  We also carry the best of the best in  at home treatments to help with redness too.
Are you sick and tired of dealing with redness in your cheeks or worried that you may have rosacea?  Our South Tampa Med Spa can help!  For more information or to schedule a consultation, please call us today at 813.839.4141.